Traditions of Owatonna   ·   195 24th Pl NW, Owatonna, MN 55060   ·​   320-591-2364
Assisted Living & Memory Care in North Owatonna, Minnesota
From the cozy lounge inviting family, friends, and neighbors to gather for a good time to the numerous snacks and coffee provided throughout the day, everything at Traditions of Owatonna has been designed with comfort and convenience in mind. Whether you are looking for you or for a loved one, our Assisted Living and Memory Care community has everything residents need to support and inspire them to live their golden years to the fullest, at their highest level of independence.
Each of our staff members, regardless of job title, places one mission above all others: to make sure your needs are met. We understand that we just work here – this is your home. We look forward to welcoming you or your loved one on the next step in your journey.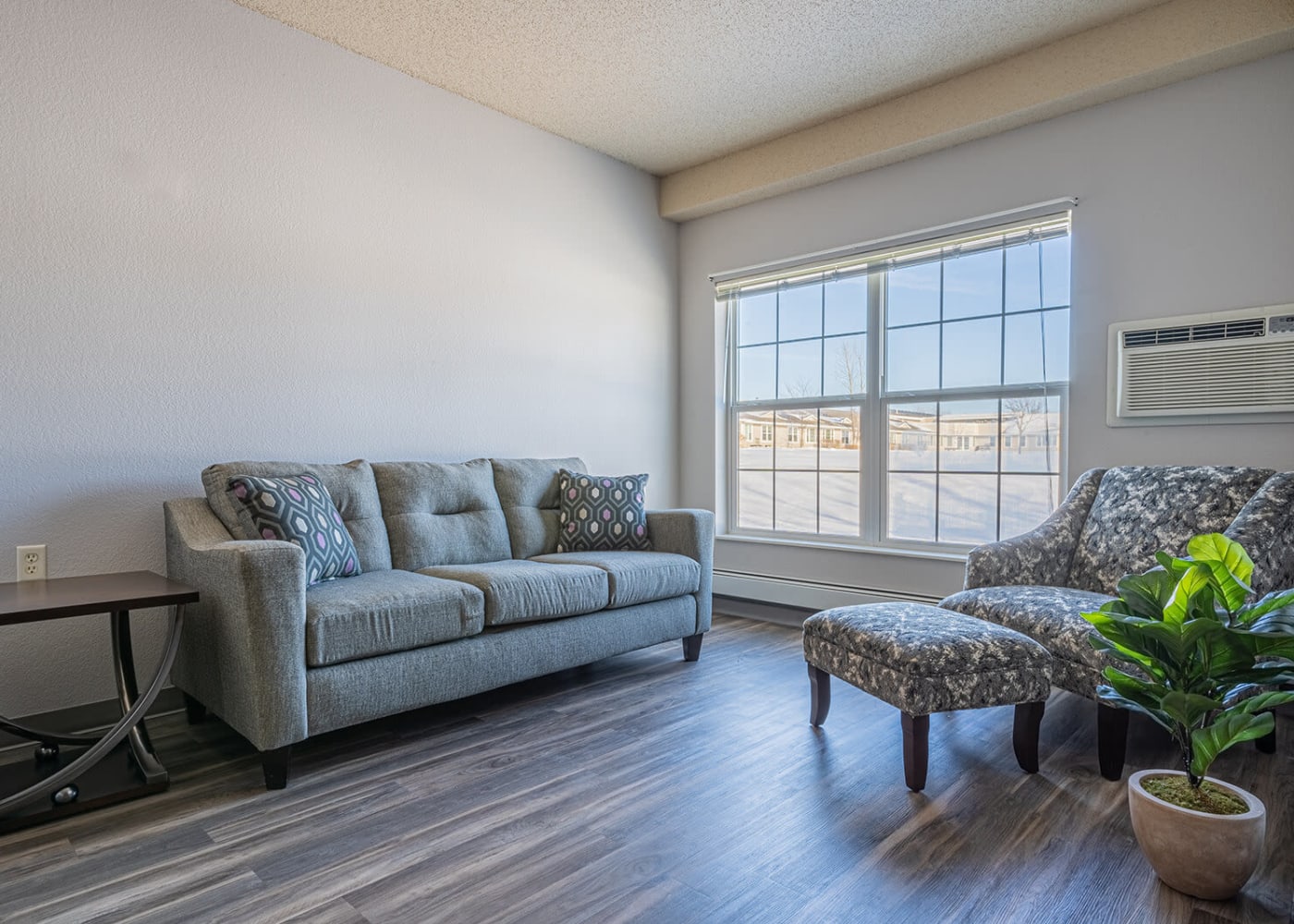 The Comforts of Home
Privacy. Comfort. Convenience. At Traditions of Owatonna, we have thought of every detail to make sure you or your loved one has a home designed for those who need some assistance in their day-to-day lives. Our one and two bedroom Assisted Living apartments come with a small kitchen, den, and private bath. Our Memory Care studio apartments offer your loved one the security and privacy they deserve. Apartments range in size from 400 to 820 square feet.
Reach out today to schedule your visit and find your ideal home near downtown Owatonna, Minnesota.
The Support to Live Well
As we age, it's only normal to need assistance with certain tasks. That's why we're here – to help you or your loved one live a life centered on comfort and convenience, allowing you to focus on enjoying your days as you please. Whether you are looking for an Assisted Living community that can help you with daily tasks like grooming and medication management or you are seeking a Memory Care program for your loved one where a staff of compassionate professionals can offer more comprehensive care, we're here for you. Services include:
Assisted Living, Memory Care & Respite Care
Nutritious, High-Quality Meals
In-Room Dining
All Personal Care Services
Resident-Centered Philosophy
Are you interested in discussing your loved one's immediate and long-term care? Call today and one of our helpful team members will be happy to get you started and schedule a tour of our community.
Picture Perfect
Take a look around! Our photo gallery offers a glimpse of life here at Traditions of Owatonna. Imagine how you or your loved one would like to spend your days here. Whether that means enjoying a nice hot cup of coffee and a gripping mystery novel in your room or playing a friendly game of poker with your friends in the lounge, we are here to help you live a life well lived – however you define it.
Ready to visit? Call today and let our friendly team members know. We are happy to schedule your tour of our Owatonna Assisted Living and Memory Care community.